Adrien Brody Interview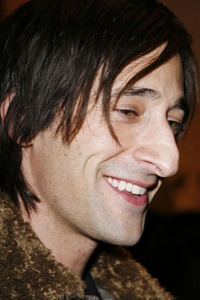 by Harry Governick – October, 1992
Working as an actor on a film is, for me, always a pleasure. It justifies life. When the pleasure is compounded by wonderful co-workers, which doesn't always happen, it confirms life-after-life. Somewhat. While performing in one of my little roles in a major work of art, I had the opportunity to get a bit closer to Adrien Brody, one of the stars of the depression era drama King of the Hill.
Adrien plays Lester, compatriot of Aaron Kurlander, childhood ghost-memory of author A.E. Hotchner, who wrote the novel from which the screenplay was written by writer / director Steven Soderbergh.
After lunch on the set, I asked Adrien if he would be kind enough to allow me to interview him for posterity. He happily agreed.
HG: I'll start with the same question you asked me earlier today: "How did you get this part?"
AB: How did I get this? I went to an audition, and a fitting in New York. You know, it usually takes a few auditions, and this was one audition. He liked it a lot, but said they had other shooting schedules. They went to Chicago for a few days, and L.A. for a few days.
HG: For this part?
AB: Right. They said they liked me a lot, but they had all these casting sessions scheduled. And they came back. They didn't find anybody else. A month later they told me I got it.
HG: What were you doing at the time?
AB: Well, I took one drama class. I used to go to Performing Arts High School in the City (New York).
HG: How old are you?
AB: Nineteen.
HG: Did an agent send you up for this part?
AB: Mmm hmm.
HG: Were you doing any plays in New York?
AB: Some. I don't know. Right now, with school and everything, there's not much time for it. Tryring to stick to getting commercial and legit work and get my school in as well… take some night courses… take a directing course and a Great American Literature course. Stuff like that, you know?
HG: Where are you from?
AB: Queens. The one in New York.
HG: Is this your first major role?
AB: Well, I did a film when I was thirteen, which was a lead. It was a PBS movie called "Home At Last". And it was great. It was like the best experience for me. It was a period piece, 1800's. And it was about me and an orphan getting into trouble. And I get arrested, and all that. And they decide to ship me off to Nebraska to these Swedish farmers for adoption. This was an actual program that existed. So I get sent out there, and, uh, it's about the transformation of this little troubled street kid to an actual good person. I come back and help the family. It was great. It was great. And I was on "Annie McGuire", a CBC Series with Mary Tyler Moore. And I did a film that was released last summer called, "The Boy Who Cried Bitch".
HG: Who were your co-workers?
AB: Jess (Jess Bradford, star of "King of the HIll"). He played a younger brother. It was about a mental institution, and what's going on. I played a person with a split personality.
HG: Sounds like fun.
AB: So Jesse played my younger brother. My roommate in the institution. It was cool. And commercials have been all right.
HG: Any we can see you in right now?
AB: I did a "Foot Locker" that's probably coming out.
HG: How did you get into acting?
AB: I started as a magician for children's parties. That was like performing. And a friend of Mom's was an actress, and I wanted to give it a try, and a thirteen years old I went and got that part, and I did an off-Broadway play right before that. Then I got that movie. I auditioned for my mom's friend's agent, and they liked me and started sending me out. That was it.